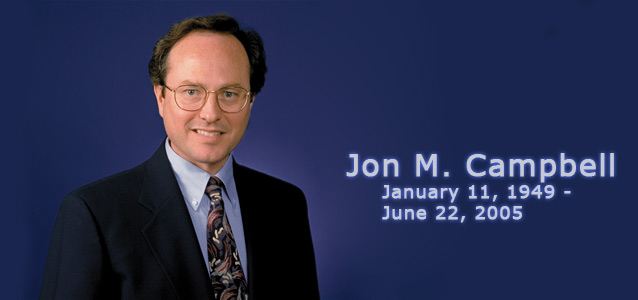 For more than 25 years, Jon M. Campbell provided Ambassador with the embodiment of servant leadership. Then, in God's providence, he was called to his eternal home on June 22, 2005, after a brief battle with esophageal cancer.

A Northern California boy at heart, he spent his college years at Biola where he not only met his future wife, Peggy Sanders, but also began working for Ambassador, managing "The Biola Hour" project--never dreaming at the time that it would develop into a lifelong commitment.

During the years that Jon gave management oversight to the Agency, it was our privilege to initiate relationships with organizations such as "Focus on the Family" and "Insight for Living" -- among many. Jon was always deeply involved in all aspects of those assignments, and became a highly-engaged participant in the Christian radio scene including service with the Western Chapter of NRB and also with its national Executive Committee.

Outside of our industy, Jon enjoyed many years as a member of the Board of the Evangelical Christian Credit Union and, in 2004, he was invited to join the Board of Trustees of Azusa Pacific University--unfortunately, a short-lived privilege due to the cancer diagnosis just a few months later.

Legacy is an important mindfulness for us at Ambassador -- we know we are recipients of a tremendous one. But we are also committed to helping create that for the next generation. We felt there could be no more appropriate way to celebrate Jon's life and his faithfulness to serving Christ than by establishing two scholarship funds that honor students already engaged in servant leadership. It is a great joy that young men and women at both Jon's alma mater, Biola University, and at his much-loved Azusa Pacific University are being encouraged by his life in this tangible way.

Jon's life verse was Psalm 119:9 ... there's no question that he would be pleased to know young men (and women) of a new generation are committed to studying and obeying God's Word -- and serving His Kingdom as God directs their path ... no matter what method, in this changing world, is used to communicate His truth!
The Jon Campbell Scholarship Fund
Azusa Pacific University Biola University
"I so rest in the fact our God does everything perfectly, even when our earthly view limits our understanding."