I don't go to the movies that often but when the Oscar nominations are announced, I make a point to at least see one of the movies on the list.

"Gravity" is one of the big Oscar contenders this year - its trailers depict a compelling human drama about two astronauts on a seemingly routine spacewalk . . . when disaster strikes.
As I read a recent Billy Graham devotional, the main character in Gravity came to mind. The movie tells the story of Dr. Ryan Stone, played by Sandra Bullock - about her persistence, training and improvisation in the face of isolation and ...
Read Full Post »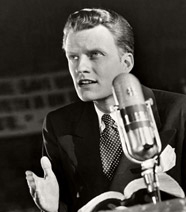 For the first time in almost 63 years, the "Hour of Decision®," featuring Billy Graham will not air in its regular time slot this coming weekend.
Instead, a special My Hope America with Billy Graham program called Defining Moments, will be broadcast in its place on the nearly 600 radio stations nationwide that air the weekly program featuring timeless Billy Graham messages.
"To the best of our knowledge, it's the first time since its debut on Nov. 5, 1950, that Hour of Decision® has stepped aside for any other program," Jim Kirkland, director of radio at the Billy Graham ...
Read Full Post »
I had a defining moment this weekend.
Two children came up to me Sunday night during AWANA to tell me they'd placed their faith in Jesus Christ while memorizing their Bible verses this past week. All of a sudden, the stress of having to leave my to-do list at home to come up to church for AWANA, melted away.
My defining moment - God reinforcing the important things of life which aren't always on our "to do list."
Every person, whether as a child or an adult, comes to a moment when they discover the light of Jesus Christ ...
Read Full Post »