Tuesday, September 1, 2009
Michelle Blood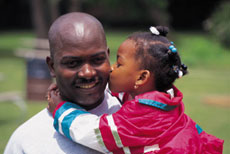 That was Dennis Rainey's tweet back in May when prepping for the 2-day broadcast airing this month on "FamilyLife Today."
What prompted the question is an observation Dennis has been making about the increasing number of stay-at-home dads. He believes "there is a shift going on in the culture ... a rejection in many places of what is normative in Scripture."
To give some context to this subject, here's some statistics the Washington Post reported just two years ago:
". . .an estimated 159,000 stay-at-home dads, or 2.7 percent of the country's stay-at-home parents (almost triple the percentage from a decade ago), will celebrate what has become a full-time job, according to the U.S. Census Bureau." And, the article further noted that the reason for more stay-at-home fathers ... "their wives had fatter paychecks or more promising careers."
There are strong arguments from both sides on the subject of who should be the primary caregiver--even among Christians. But with the current economy and many dads facing job loss ... some couples find they have no choice but to reverse their traditional roles and adjust.
Dennis takes a hard look at this cultural shift and provides biblical perspective, including the implications as a result of this change in the family dynamic.
Regardless of your answer to the initial question above ... it's clear this growing demographic is seeking advice and direction (just Google the subject and you'll see what I mean), and FamilyLife is here to be that resource--offering these dads and moms, help for today and hope for tomorrow.
For a complete list of other broadcasts from FamilyLife this month, go here.
By the way, the God-given roles of moms and dads is one of the sessions at FamilyLife's Weekend to Remember® marriage conference--learn more about it here.
Download Promo Pack File »
Leave your comment