Monday, June 28, 2010
Carolyn Kim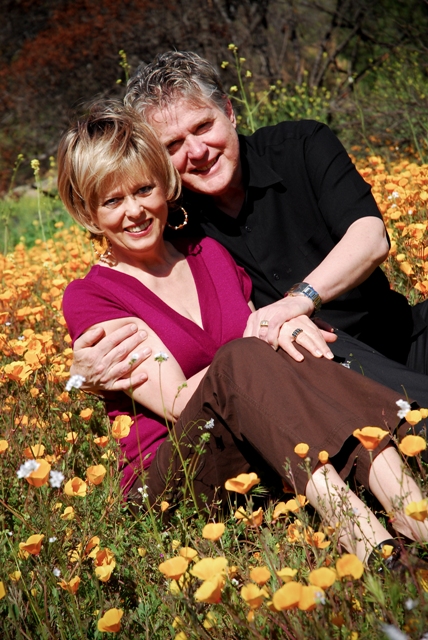 If you've been keeping up with life in the Garlow's household, you'll know that these past several days have had moments of incredible celebration...and other moments of profound sobriety. For a full re-cap, visit Jim Garlow's facebook page and read his notes. But here's the abbreviated version.
The youngest two Garlows, Josie and Jake, graduated high school this year. A time traditionally packed with festivities and family, the Garlows' celebration held a different tone. The recent news of Carol's cancer returning and the ensuing measure to fight it led to Carol being scheduled to be at MD Anderson Hospital in Houston...at the exact same time Josie was graduating. (Josie and Jake attend different schools, thus having different graduation dates).
In a display of love for Carol (and joy for Josie and Josh), Grossmont Unified School District Board Member Jim Kelly and Valhalla High School Principal Mary Beth helped bring the graduation to Carol (a few days early). In a special, and completely official, ceremony held just for the Garlow, Josie and Jake marched in to "Pomp and Circumstances," received diplomas and turned their tassels. (To truly do justice to this incredible event, you'd need to read the account from Jim himself. Check it out here). While both of the high school graduates also participated with their school graduation ceremonies, Carol Garlow did indeed see the official graduation ceremony for Josie--and one that would be hard to ever top I'm sure!
On Monday, June 22, Jim and Carol arrived at the Houston's MD Anderson Cancer Center. The days there have been hard, as they've further discovered the realities of this aggressive cancer, learned about the possible treatments (and risks) and grappled with all that is in store. While Jim will be sharing more results from this time in the coming days, we knew you'd want to know the latest. (again, Facebook is a great way to stay up to date on everything that's happening...Here's a note from Jim that was shared last Friday with some recent updates). Please continue to pray for the Garlows as they face the coming days. There's a lot of unknowns, but they're holding firmly to faith in Christ and God's sovereignty and goodness.
Last Friday, Carol and Jim Garlow left the center to fly out to begin Jim's tour called "The Next Great Awakening Tour." This historical tour of Boston, New York, Philadelphia and Washington DC lasts for ten days and includes meeting with honored guests such as Speak Newt Gingrich, Governor Mike Huckabee, Senator Rick Santorum and others. There will also be special guest lecturers at the various stops, including Dr. Ken Minkema, Bill Wilson, Tick Tyler and Maggie Gallagher. If you've had a chance to get to know Jim, you'll be familiar with his deep knowledge of history and love for Christian heritage. This tour is going to be a wonderful opportunity for him to share that passion and help others learn more about the spiritual awakenings that have laid a foundation in this country. With all that Carol is facing, please continue to pray for them--especially during this tour--that their strength, health and energy would be protected.
Thank you for your continued partnership with Jim Garlow and "The Garlow Perspective." We'll keep you posted with all that's happening as it continues. If you'd like to drop Jim a note, feel free to post on his wall at Facebook. It's a great way to stay connected with him! I know he greatly appreciates all the support you've given both for the radio feature and for the journey he and Carol are on.
Carolyn Kim
Ambassador: We Connect. Ministry and Media.

Download Promo Pack File »
Leave your comment