Thursday, September 23, 2010
Jennifer Perez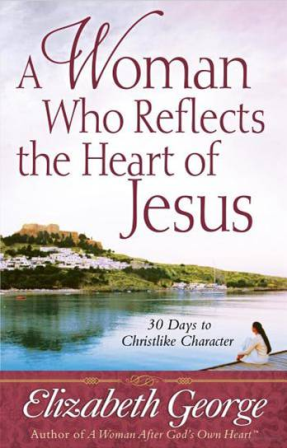 In her latest book, A Woman Who Reflects the Heart of Jesus, Elizabeth George invites readers to take a journey through God's Word, studying 30 character qualities that Jesus displayed.
Elizabeth shares, as you begin, it is my prayer that these 30 scenic viewpoints along the path will help speed you on your way to becoming more like the Master, to becoming A Woman Who Reflects the Heart of Jesus.
I'm accepting Elizabeth's invitation to read through this devotional and set a pace over the next 30 days to grow more towards Christlikeness. If you would like to receive some copies to provide to your listeners, just send me a note.
Elizabeth has another gift for you to share with your audience. As we celebrate the beginning of Fall, that means Christmas is right around the corner and some may already be feeling the pressure that comes with preparing for the holidays.
In her new radio special, A Holiday Survival Kit . . . for A Woman After God's Own Heart, Elizabeth provides wise, biblical counsel for getting through (and even, enjoying!) what could be the most stressful time of the year.
Download the special now from our ftp site. (Go to Specials-WGH-Christmas folder.)
Thank you for your partnership and for reflecting the heart of Christ in your community.
Blessings to you in this new season,
Jennifer Perez
Ambassador: We Connect. Ministry and Media.
Go here for the most updated A Woman After God's Own Heart feature titles.
Download Promo Pack File »
Leave your comment