Wednesday, September 29, 2010
Jennifer Perez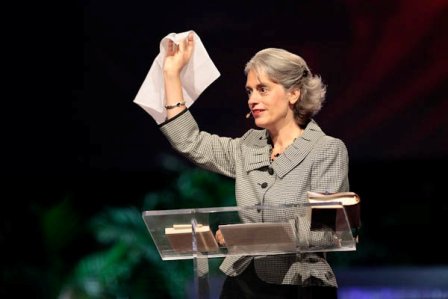 This past weekend at the True Woman '10 Conference in Indianapolis, over 6,000 women (including 400 teenage girls!) said "Yes, Lord," waving their white flag of surrender and embracing God's call on their lives.
One of my favorite stories from the conference was the group of women who came wearing brightly colored T-shirts, each labeled with a different "EX" statement such as:
EX-Hypocrite
EX-Idolater
EX-Narcissist
EX-Diva
And EX-Coward (as seen in this picture, speaking with conference emcee, Bob Lepine)
What a visible statement these women made as a reflection of the work that God has done in their lives. Revive Our Hearts™ and the True Woman movement have played a part in this and as one attendee stated, "True Woman is more than a conference-it's a movement of God!"
Since the conference, women have been emailing the ministry about their experiences and sharing that they're now an EX-blamer, EX-yeller, and even an EX-people pleaser!
What would you like to be an EX from? Good to think about, isn't it?
For more True Woman-Indianapolis images, watch the slideshow here.
We thank you for your partnership and help in spreading the word about these events for your listeners. We covet your prayers for the final True Woman '10 Conference coming up October 14-16 in Fort Worth, Texas.
For details about upcoming "Revive Our Hearts™" programs (including a special program update from the True Woman-Fort Worth event), the October promo packet is now available for downloading.
Also, click here for an updated listing of "Seeking Him" short feature titles.
Jennifer Perez
Ambassador: We Connect. Ministry and Media.
Download Promo Pack File »
Leave your comment