Friday, January 22, 2010
Katie Burke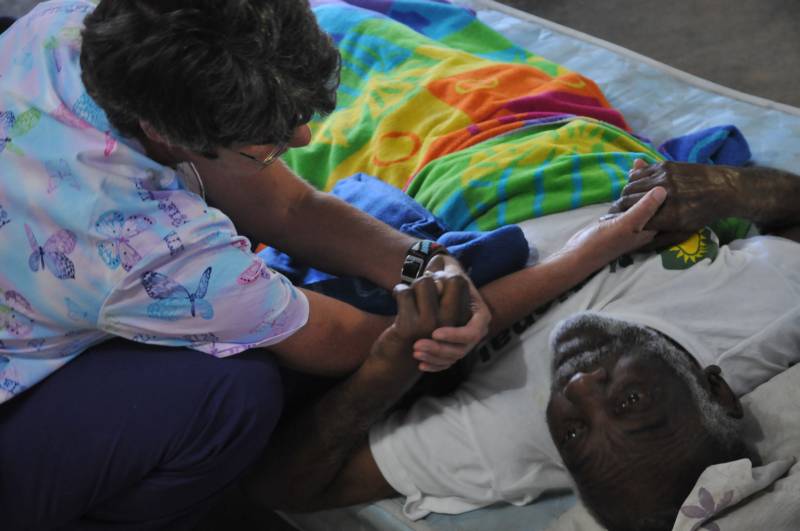 Going Beyond the Call in Haiti
Each day brings a new story from Haiti: Orphans rescued and brought to the States, a seven-year old boy is pulled from the rubble after a week, a son rejoices after being reunited with his mom.
These stories of hope can only be made possible by someone stepping out in faith - someone who goes beyond the call. Ron Cline shares stories of hope from Haiti and the HCJB Global Hands team each day on "Beyond the Call" (Friday, January 22nd through Friday, January 29th).
Here's one story:
Amazing stories are coming out of Port-au-Prince Haiti as a devastated people cling to hope--so many of them children! Estima, a 12-year-old shepherd boy, was walking down the mountain with his goats and his sister and brother when the earthquake hit. His leg and arm were crushed. Surgeons from our HCJB Global team worked on him late into the night. Sitting beside him the entire time was his little brother and sister--grins on their faces! Their brother was alive, and they were safe! Our HCJB Global team of nurses and doctors are being the hands of Jesus to so many injured and dying children in Haiti. We can't all be in Haiti--but we all can go Beyond the Call for those who are!
And another:
Out of the mouths of babes, as the saying goes. And in the midst of profound devastation in Haiti, it's so often the children who remind us that in Christ, there is victory over death and destruction. Dr. Mark Nelson of our HCJB Global team in Haiti was working on a 2-year-old with a life-threatening wound on her little leg--bones fractured and lots of infection. But as she was being prepared for surgery she was singing--in Creole, "I am saved, I am saved, I am saved!" Out of the mouth of babes! Jesus said, "Bring the little ones to Me!" It's what we're doing everyday in Haiti.
To air "Beyond the Call" contact Katie.
More from HCJB Global:
Please continue to pray for HCJB Global's Emergency Medical Response Team that is there right now. They are overwhelmed with the need and are working up to 17 hours a day providing clean water and medical/surgical intervention.
For the latest information about the team in Haiti, including photos and video, go to http://www.hcjb.org/haiti/
Receive the latest prayer requests via twitter at http://www.twitter.com/hcjbglobal
Audio download: PSAs and interviews of the team in Haiti: download audio
Katie Burke
Download Promo Pack File »
Leave your comment