Monday, November 8, 2010
Katie Burke
In the book of life, the answers aren't in the back." ~Charlie Brown
"I love mankind. It's people I can't stand." ~Linus Van Pelt

"Yesterday I was a dog. Today I'm a dog. Tomorrow I'll probably still be a dog. Sigh! There's so little hope for advancement." ~Snoopy

A lot of us grew up delighting in the work of that great theologian . . . Charles Schulz (born 11/26/1922). So . . . which of the fascinating Peanuts crew would you call "favorite"? Why? Add your response to these below (also found in the November Update newsletter).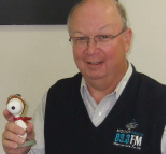 "I have to say my favorite character is Snoopy. I have the requisite collection of Snoopy Hallmark Christmas ornaments to back it up. His flights of fancy fueled my daydreams as a kid and who didn't want to be as cool as Joe Cool?"
J. Scott Curtis
Operations Manager / Moody Radio
"The creative side of me admires Schroeder's single-minded focus on his music; the mischievous side loves Snoopy; and the self-depricating side relates to Charlie Brown. But the analytical, philosophizing nature in me would have to choose Linus (and I can relate to the way he panicked whenever he was without his blanket)!"
Albert Swanson
Radio Production Coordinator / BGEA
Linus...hands down! Aside from the obvious "adorability factor" (OK, what mother hasn't had a child stand at the washing machine waiting for their favorite blankie to emerge?), I'm captivated by Linus' innocence about the world; his loyalty to an oft-picked-on friend; his patience with an obnoxious sister; and his profound grasp of theology, i.e. "...and that's what Christmas is all about, Charlie Brown!"
LuAnne Crane
Executive Producer & Co-host / Family Talk
My favorite Peanuts character is Snoopy. It is his indomitable spirit, whether it is after being shot down by the Red Baron, or being chased by the neighbor's cat, Snoopy is always ready to face danger again - after a time to rest and lick his wounds! And the joy of having such a wonderful friend like Woodstock - kind of like being married to Karen! Yes, Snoopy is definitely, Joe Cool!
J. Scott Keegan
National Director / Moody Radio
Leave your comment