Monday, May 23, 2011
Lee Ann Jackson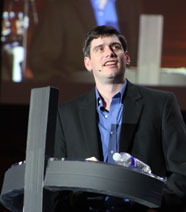 This weekend, 116 people were killed by the tornado that hit Joplin, Missouri. The Billy Graham Evangelistic Association (BGEA) and their Rapid Response Team (RRT) are asking for prayer for those affected by the devastating tornado, especially those who lost loved ones. Also, pray for the first RRT responders who are actively working in the area now.
"We are en route to the region and will be assessing how best to respond," said Preston Parrish, Executive Vice President of Ministries at BGEA. "Even today's weather is further threatening people and hampering immediate rescue efforts."
Over 200 tornadoes on April 27 killed an estimated 250 people in Alabama and 350 across the southeast. Franklin Graham estimates the RRT and Samaritan's Purse will be on the ground in Alabama approximately six months.
"I pray that this community comes out of this stronger and more united than ever before," he said. "Tornadoes are the most destructive disasters. They hit neighborhoods like atomic bombs."
But even in the worst storms of life, said Graham, each and every person can find hope in a relationship with Jesus Christ.
And it's the same message of Hope which Will Graham, son of Franklin Graham, shared at the Jersey Shore Celebration this past weekend. The Celebration was a 3-day event with audiences totaling 13,871 and 860 responding to Graham's invitation to make a decision for Christ.
In the days before the Celebration, Graham addressed that claim directly, saying, "None of us know for certain when we will breathe our last breath, and we are all a heartbeat away from eternity . . . the important thing isn't when you stand before God; it's where you stand with God." "God loves you so much that He sent Jesus down, because mankind could never make it up to God. Religion will never save you. Church will never save you. Baptism will never save you - only Jesus!"
The message of Hope is an unchanging truth in a world with so much change.
Lee Ann Jackson
Ambassador
We Connect. Ministry and Media.
P.S. And thank you for your prayers as the ministry prepares for the Festival de Esperanza next month in Los Angeles!
Download Promo Pack File »
Leave your comment