Why Radio?....Because Of It's Reach!
Fact: 90% of American adults listen to some form of audio each day. Radio is the largest supplier of audio, being the preferred medium for 77%. Out of the 18-34 year olds, 80% tune in each day to radio.
"There are a lot of critics out there who want to write off broadcast radio, but this analysis of real-time media consumption shows that it continues to play a very strong role," said Dr. Michael Link, VP of Methodological Research at The Nielsen Company.
Fact: Radio is the main audio media for listeners at home, work and in the car.
The Manhattan Declaration was a mainly radio driven campaign that generated 250,000 signatures in about 2 weeks. That's the power of radio.
Fact: The increased use of iPods and other MP3 devices have has a positive impact on radio consumption. Radio has an 82% reach among those who listen to other portable audio devices. This is greater than the average reach among general audio consumers.
"This study proves that radio is still a popular medium for the tech-savvy, MP3-playing 18-34 year old consumer," said Jeff Haley, President and CEO of the Radio Advertising Bureau (RAB). "This groundbreaking observational study of today's consumer proves that the primary source of new music is the radio."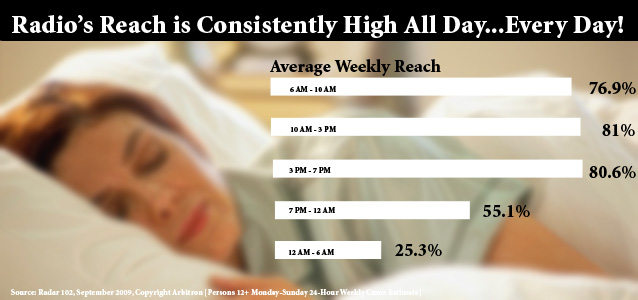 Fact: Audio has the highest reach among those with higher levels of education and income. In fact, radio reaches 95% of college graduates between 25-54 and an annual income of $50,000 or more.
"The results of this study confirm radio's importance with all socio-economic groups within the United States, as well as with those that consume other audio platforms that had been perceived to be usurping radio's audio dominance," said Bob McCurdy, President of Katz Marketing Solutions.